The construction of Cooper Union's landmark Foundation Building, designed by Frederick A. Peterson, was begun in 1853 and completed six years later. A forerunner of the modern skyscraper, it was one of the first buildings in New York to be supported by rolled wrought iron beams, which were developed by Peter Cooper and produced in his own ironworks in Trenton, New Jersey. In addition to its structural innovations, the building won immediate recognition for its round elevator shaft, Italianate brownstone exterior and basement auditorium -- The Great Hall -- which was cooled by an imaginative ventilation system.
The building was originally five stories and flat-topped; later alterations would include skylights and additional floors. A major renovation, completed in 1974, dramatically altered the interior of the building while leaving the façade largely unchanged. Designed by architect John Hejduk, the first dean of Cooper Union's Irwin S. Chanin School of Architecture, the renovation was praised by Ada Louise Huxtable of The New York Times as "the best of both worlds. Its 'Renaissance' shell is intact. And the clarity and detail of the consciously sophisticated modernism of the interiors speaks of the creative continuity of history and art."

On April 12, 2002, the Foundation Building was rededicated after an extensive, three-year renovation of its brownstone exterior.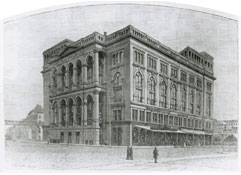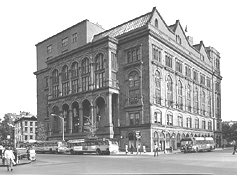 The Cooper Archives contain numerous books, documents and images pertaining to the construction of the Foundation Building and its renovation. To receive further information or to make an appointment to use the Archives, please send an e-mail to archives (at) cooper.edu.